Not far from the waterfall Golinger another attraction made by nature is situated – the biggest in Europe ice cave.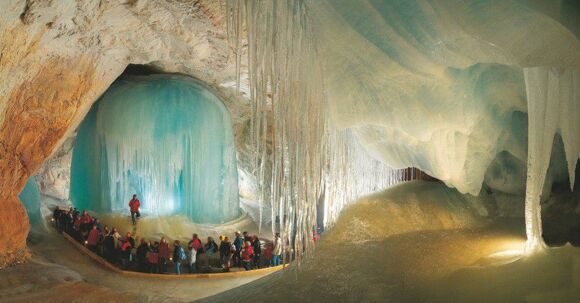 The working time of the cave in 2020. The cave is open for visits from 1st May to 27th October. May, June, September and November from 8.30 until 15 o'clock, July and August from 8.30 until 16 o'clock.
The website: The ice cave Eisriesenwelt
The parking lot: Eishohlenstr. 31, 5451 WerfenTickets: adults – 24 euros, schoolchildren – 18 euros, children – 14 euros, there are also different types of family tickets.
It is 60 km or 55 minutes by car from Bad-Reichenhall, the territory of Austria, do not forget about the "vignette".
The length of the cave is about 40 meters. The walking route is shorter, of course. The cave is situated on the 1000 meters height. The height of the lift inside the cave is 136 meters. It is not recommended to visit the cave to people with the disease of the musculoskeletal system and with the diseases of the cardiovascular system. Unfortunately, people in wheelchairs cannot observe the cave. It is also recommended not to visit the cave with children under 4 years.
The temperature in the cave is always below 0 degrees, so do not forget warm clothes. The visiting of the cave is available only with the guide. The excursion lasts 1 hour 15 minutes; the whole walk time is about 3 hours.
The photo and video are not allowed for two reasons: flashes damage the ice and time for excursion is very limited, the interval between the groups is about 6 minutes. Photo and video materials are presented on the website of the cave, you can download them free.
I could not personally visit the cave.
Attractions nearby:
Gollinger Waterfall (Gollinger Wasserfälle)
The castle Hohenwerfen (Burg Hohenwerfen)
The salt cave in Durn (Salina)
Summer sleighs Strobl am Wolfgangsee
Zoo Salzburg (Zoo Salzburg Hellbrunn)
The castle Hellbrunn (Schloss Hellbrunn)
The gorge of the Goat (Kitzlochklamm)